Social Media Management Plans & Pricing
Social Starter
Great for small businesses
1 Social Profile Managed

Custom Profile & Cover Images

Custom Post Artwork*

Relevant Curated Content

5 Posts/Week

Facebook only

FB Ad Spend: $50/mo.

Paid Advertising Campaign Management

Community Engagement

Interaction & Comment Management

SEO Keyword Optimization
Social Pro
Perfect for growing businesses
4 Social Profiles Managed

Custom Profile & Cover Images

Custom Post Artwork*

Relevant Curated Content

5 Posts/Week on All Platforms

Facebook, Twitter, Google+, LinkedIn

FB Ad Spend: $100/mo.

Paid Advertising Campaign Management

Community Engagement (3 posts/week)

Interaction & Comment Management

SEO Keyword Optimization
Social Enterprise
For companies with active social engagement
5 Social Profiles Managed

Custom Profile & Cover Images

Custom Post Artwork*

Relevant Curated Content

7 Posts/Week on All Platforms

FB, Twitter, Google+, LinkedIn, Pinterest

FB Ad Spend: $150/mo.

Paid Advertising Campaign Management

Community Engagement (5 posts/week)

Interaction & Comment Management

SEO Keyword Optimization & Syndication
Facebook Ad Spend
Part of your monthly budget will be spent on Facebook advertising. These days, it's very hard to get new Facebook fans without investing in Facebook advertising. You can't blame Facebook – they're a business too!
Fortunately, FB advertising is very effective when it comes to growing your fan base. Social Starter subscribers will have high-value posts boosted to expand the reach of their message, resulting in more engagement and likes. Pro and Enterprise subscribers take their FB advertising strategy to the next level with an increased ad spend along with multiple ad versions created & tested to optimize cost-per-click and conversion.
Syndication & Social Signals
Enterprise subscribers get the SEO perk of additional social signals being sent to their website & social properties. Syndication takes your posts and expands the reach of those posts by publishing them (syndicating them) across multiple channels all at once. This activity helps your posted content look "yummy" in Google's eyes because it's being shared across the web, which in turn boosts your visibility in search engines.
Some example web properties include Blogger, Delicious, Tumblr, and WordPress.com. Don't worry if you haven't set these properties up for your business. We take care of that for you.
Posting to these channels manually every time you want to push new content would take hours. We take the hassle out of syndication and you reap the benefits of massive social signals pointing back to your web properties.
Custom Post Artwork*
Custom post artwork is a part of all social management packages. This is offered as an added value that works best when you have blogs/articles you're writing for your business on your website but can also be created for quotes, events, product/service features, and anything else that'd benefit from an added visual impact. Part of what makes a blog post drive web traffic is the header graphic, which also acts as Facebook's featured image when you share that post.
We create artwork based on your post that looks great when shared. For an additional fee, we can even create blog post header artwork for you that can then be modified for social (contact us for more info).
Example: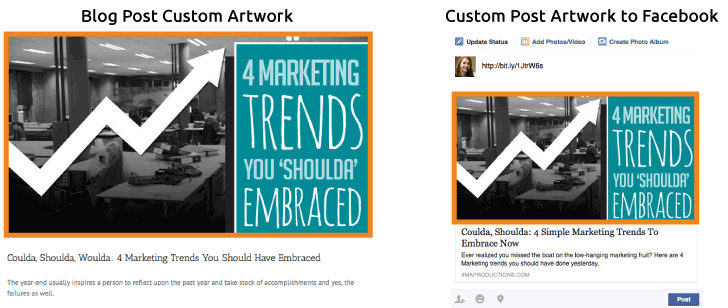 Community Engagement
Community Engagement is the process of discovering other Facebook pages, LinkedIn groups, and online forums that your customers already visit and engaging that audience in a social conversation. The goal with community engagement is to get your business's name out there and show that you're an active part of your industry – tuned into what's going on and ready to share your knowledge with the world.
We do this by sharing your content in a natural, informative, non-spammy way and answering questions that are posed by the group. During an online discussion, we may need to reach out to you to get an expert's answer to a question posed online, so it's very important that you keep a line of communication open to your social media manager in order to get the best results.
SEO Keyword Optimization
As a part of Social Enterprise, our SEO experts will take a look at your current SEO performance profile and make recommendations to boost your performance.
Without getting into too much technical detail, this will include things like diversifying anchor text or focusing more on a particular keyword. Backlinks created through social sharing is a great way to ensure a properly balanced SEO link profile that Google will love.
Setup Process
Once you've setup your plan subscription, you'll need to provide us with posting access to your social accounts so that we can post on your behalf. Here are some guides on how to add an administrator/editor to your major social accounts. If you get stuck or need help, please give us a call. We'd be happy to talk you through it.
Twitter

The easiest way for us to post for you on Twitter is to allow us to login under your business's Twitter account as an administrator. Although 3rd party Twitter apps exist to handle contributor roles, they don't integrate into our primary social management platform. If you ever need to revoke access, simply change your Twitter password.